GRANNY'S STEW CHICKEN (How To Recipes By Boardgains)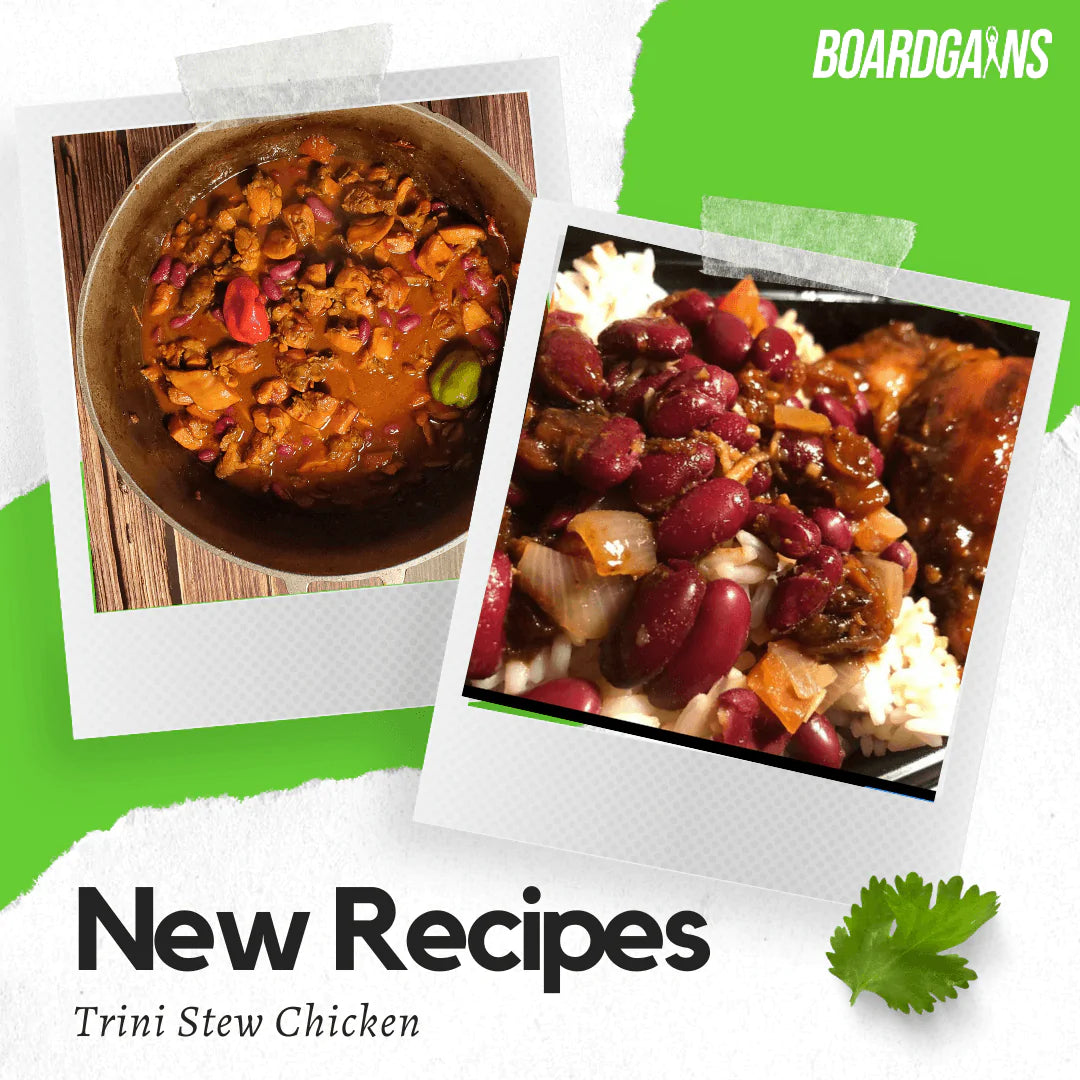 One of my favourite cultural dishes from Trinidad Stew Chicken. The only difference with my version is that I use boneless meat because it's easier to track the macros. 
Ingredients: 
900 Grams of Boneless Chicken Thighs
1/2 cup Green Seasoning 
1 tsp Salt 
1 tsp Black Pepper
2 TB Ketchup 
2 TB Soy Sauce 
2 TB Oil 
2-3 Cups of Water (depending on the quantity of the sauce you want)
1 Can Red Bean (Drained & Washed)
1/4 Cup Sugar
Yield:Serves: 4-6 people 
Directions:
Cut the Chicken Thighs into smaller pieces. Season chicken with green seasoning, salt and black pepper, ketchup soy sauce and leave to marinate in the fridge for 1/2 hour or longer if you have the time.

Heat the oil in a deep pot over medium heat. Stir in the ¼ cup sugar, and cook until the sugar has melted into a nice golden brown syrup. Add the chicken pieces, and brown quickly while turning continuously. Cover the pot, and let it cook for 6-10 minutes and the chicken will produce its own juices naturally.

Remove the lid, bring up the heat to allow the liquid burn off, this intensifies the flavour of the sauce. When all the excess liquid from the chicken burns off then add 2 cups of water to the pot. 

Close the pot and cook on medium-low for 5 minutes, then add beans and cook for 5-10 minutes or until the chicken is properly cooked. Taste for salt and adjust seasoning if needed.

If you find the sauce a bit loose, turn up the heat to thicken the sauce. Be careful so you do not burn the sauce. Also, note that the sauce thickens as it cools.

Serve with Quinoa, Rice, or whatever you like. 
---