A little twist to a cultural favourite: Woubles (Waffle + Doubles) (How to recipes by Boardgains)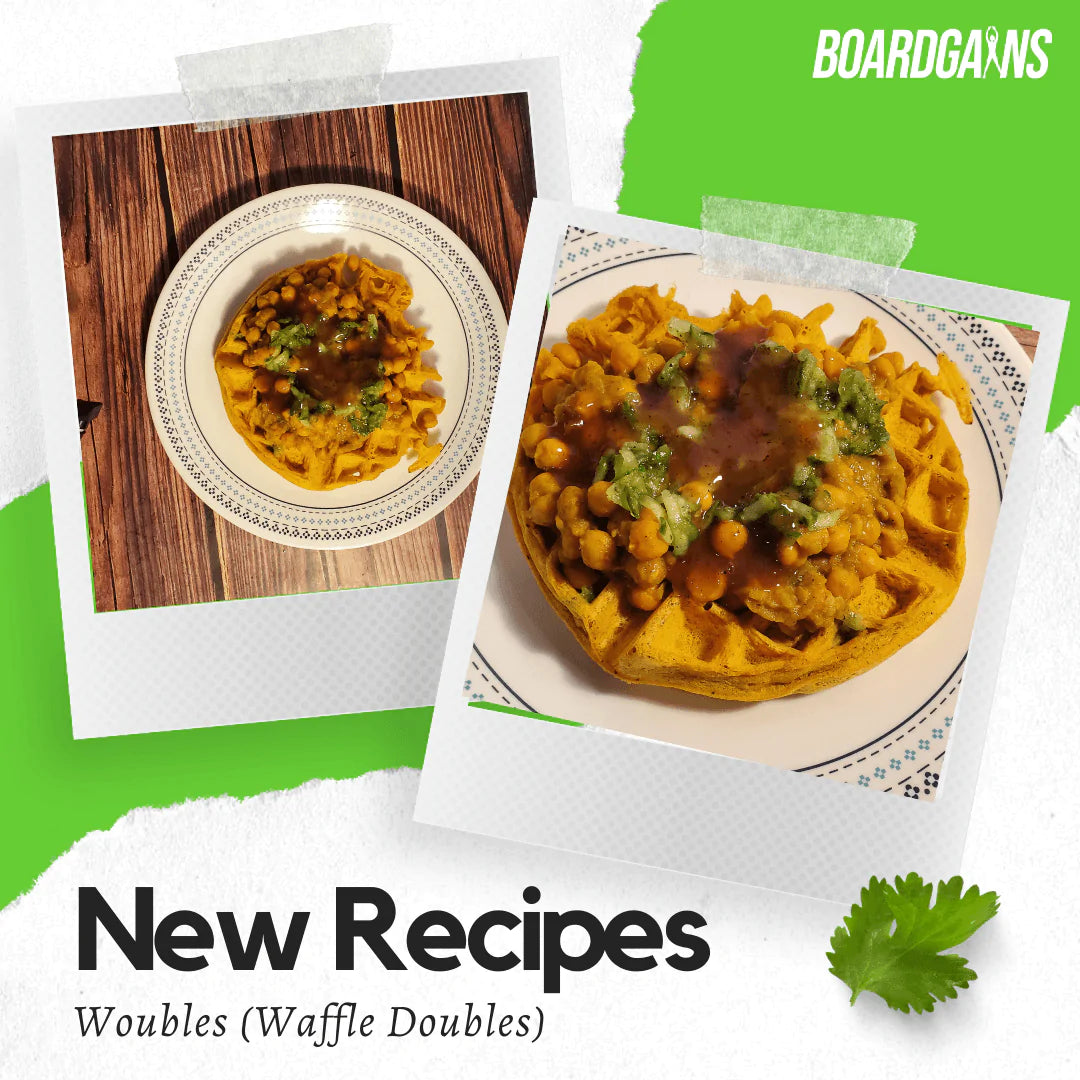 My trini people don't hate on me when you read or see this recipe! I got inspired to make this by Rishi Ramoutar and this is the best recipe for making a healthy version of doubles. 
Ingredients: 
Bara
1 Cup Flour 
1 tsp Salt 
1 tsp baking powder 
1 package yeast 
1 tsp saffron 
1 tsp black pepper 
1 cup warm water or more
Channa
1 TB Oil
3 Cloves Garlic, minced
1 Medium Onion, minced
1 TB Curry Powder mixed with 1/4 cup water
1 14-oz can Chickpeas, drained and rinsed with cool water
2 Tsp Cumin
2 Tsp Salt
1 Tsp Black Pepper
1 Tsp Scotch bonnet or Peppa Sauce
Yield:3-4  Servings of Woubles
Directions:
In a large bowl, combine flour, salt, baking powder, yeast, saffron and black pepper. Then add warm water a little at a time and mix until you get to desired consistency. Set aside and let it rise for 30 - 120 minutes. 

Warm a large frying pan or skillet, add oil and warm until shimmery. Add garlic, onion, and the curry mixture and sauté for a few minutes. Add the drained chickpeas and stir to coat with the spice mixture and cook for another five minutes.

Add cumin, salt, pepper, and 1 cup of water and stir. Then lower heat and simmer for 30 minutes, covered, until the chickpeas are very soft. There should still be the sauce. If not, reconstitute with enough water to form a medium-thick sauce. Add pepper sauce and stir.

Spray preheated waffle iron with non-stick cooking spray. Pour bara mix onto the hot waffle iron. You might need to add more water to the bara mix to get it into a waffle mixture. Cook until golden brown. Serve hot.

Finally, assemble your doubles waffle by placing 1/2 cup of the chickpea filling on it, topping with additional condiments as desired. Enjoy it at once!
---