Play, Sweat, Win! 🏆
With BoardGains - Your Bootcamp In A Box! 💪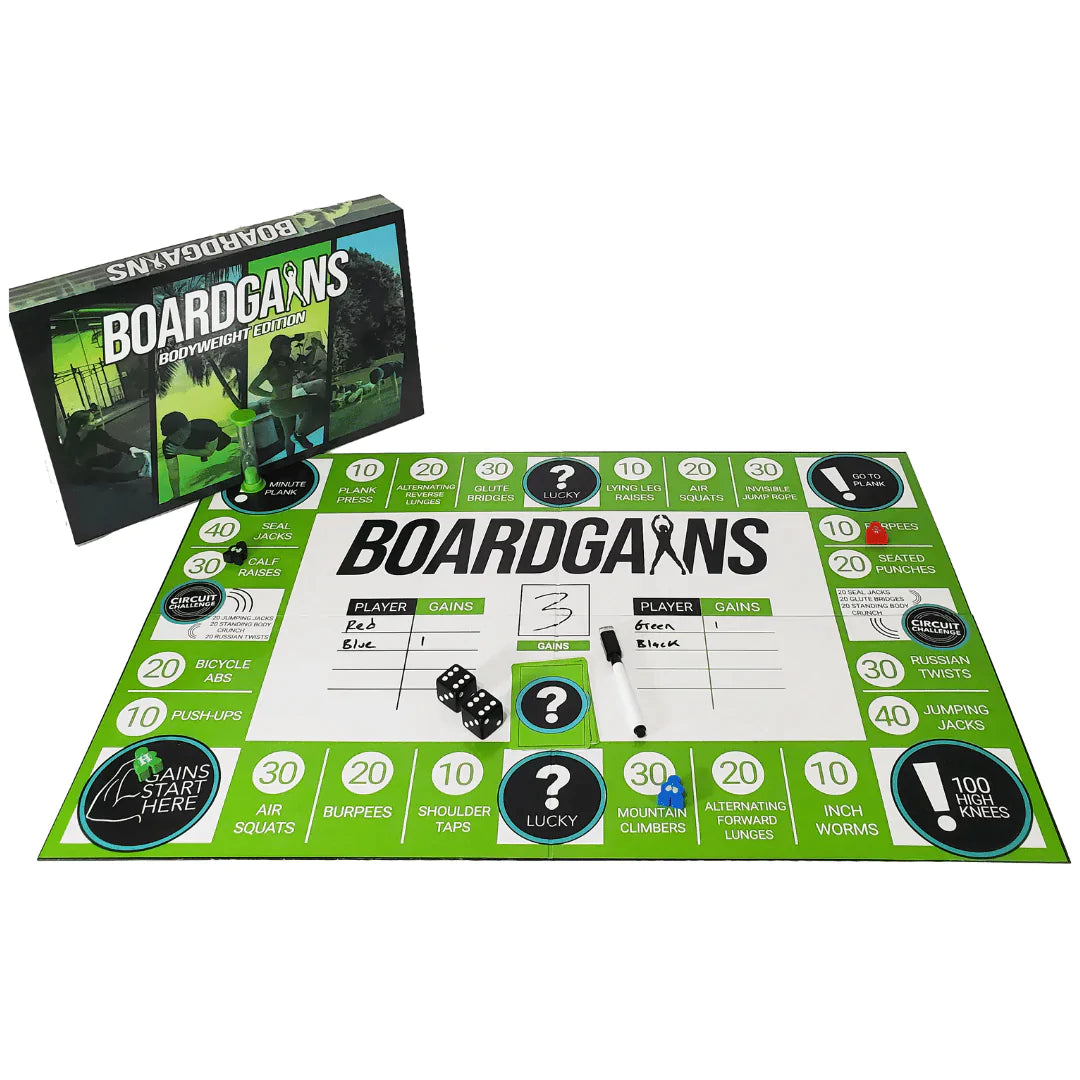 MEET YOUR NEW FAVORITE WORKOUT TOOL
Ready to step up your game? From jumping jacks to glute bridges, this heart-racing board game is sure to get you sweating. Take turns to roll the dice and await your fitness fate –– just be careful not to land on 100 high knees!
Designed by Eric, a seasoned personal trainer and group fitness instructor, BoardGains is your all-in-one fitness board game. Perfect for team workouts, school PE classes, group sessions at the gym, or family fun, it's as versatile as you are. Want to go solo? No problem! BoardGains offers a full-body cardio workout that fits your schedule. Why stick with the usual workouts when BoardGains brings the ultimate fitness party to any setting—solo, group, indoors, or outdoors. Mix up your fitness routine with the ultimate bootcamp in a box!
Shop Now!
Choose from two editions: The Home Edition, perfect for beginners, kids, & home use with its compact size and 13 exercises, is ideal for Grades 5-8. For a more robust experience, choose the Pro Edition, featuring a larger board with 20 exercises, designed for schools, gyms, & bootcamps, and suitable for Grades 9-12+.
Real Peeps, Real Gains, Real Fun!
BoardGains turns workouts into epic, easy-to-play bootcamp parties!
Testimonials: Gains Approved!
I received this game for Christmas and love it so much. It's super easy to understand- everything is explained and pictured details. I played it with my teenager and we had so many chuckles while getting in a great workout. I definitely recommend this game to anyone who wants to have fun while doing some fit work.

Kelly
Such a fun way to get friends together and be active. You don't need to plan any exercises or follow a video and the little bit of competition makes it really fun.

Brynn
We have large numbers in our classes, this game got ALOT of students involved and most importantly MOVING. Challenging, but fun. We will break this out often! Thanks!!!

Mechelle B
Got my personal trainer bf for his surprise party and invited his boss, business friends, and family w 80s themed and bright colours and had two teams compete playfully to burn off the bday cake! Everyone loved it, even the elderly that couldnt participate and just laughed and watched us sweat ha!

Crystal K.
The first time I used it myself and my students really enjoyed it! Nothing wrong with a little competition!! For the price it was a no brainer to buy it. Especially since I had to use my own money!

Lauren
My husband and I played the game. It was a fun, friendly competition. We made our target 7 gains. The send back to high plank killed me. And I swear I landed on every single burpees square. It was a very hard but fun workout. So happy I bought this game! Our next plan is to have a couples competition!

Teirsa
I played this game with my varsity field hockey team and it gave them quite the workout. The instructions are pretty simple to explain and the exercises are good as well. Great competitive game.

Niki
Great game! We've been using it with our kids during our summer camp and they love it. I highly recommend it, it's fun & unique.

The Bay Coaching Facility Channel
I bought this game as a way to get students active in our homeroom class as well as a way for them to have fun with their classmates. The students worked incredibly hard and encouraged each other to complete the different challenges. It was a great experience!

Mike R.
25-year fitness coach here, and BoardGains is the real deal! It's so fun, you forget you're sweating. The game's got variety—strength, cardio, all of it. Play solo or team up, your choice! My clients of all ages are hooked. We even play on Zoom! The board's sturdy and comes with everything. Trust me, you'll love it—10/10!

Coach Lalonde
Turn Workouts into Playtime: Perfect for Home, School, and Gym!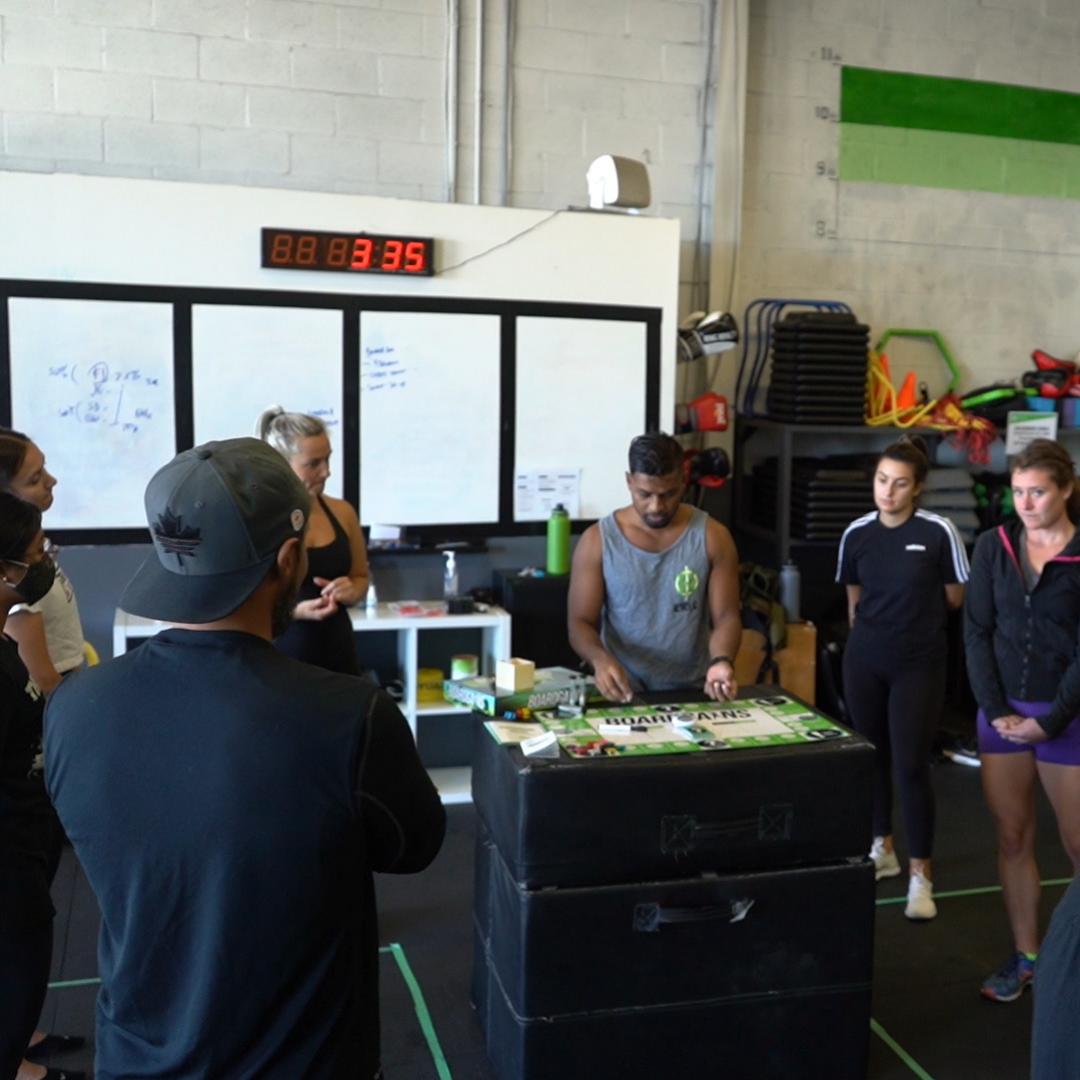 Boost Your Gym Game with BoardGains!
Perfect for Bootcamps, HIIT Sessions, and Any Fitness Class That Needs a Jolt of Joy! Use it Daily or Save it for Special Events—Either Way, It's a Crowd-Pleaser!
Learn More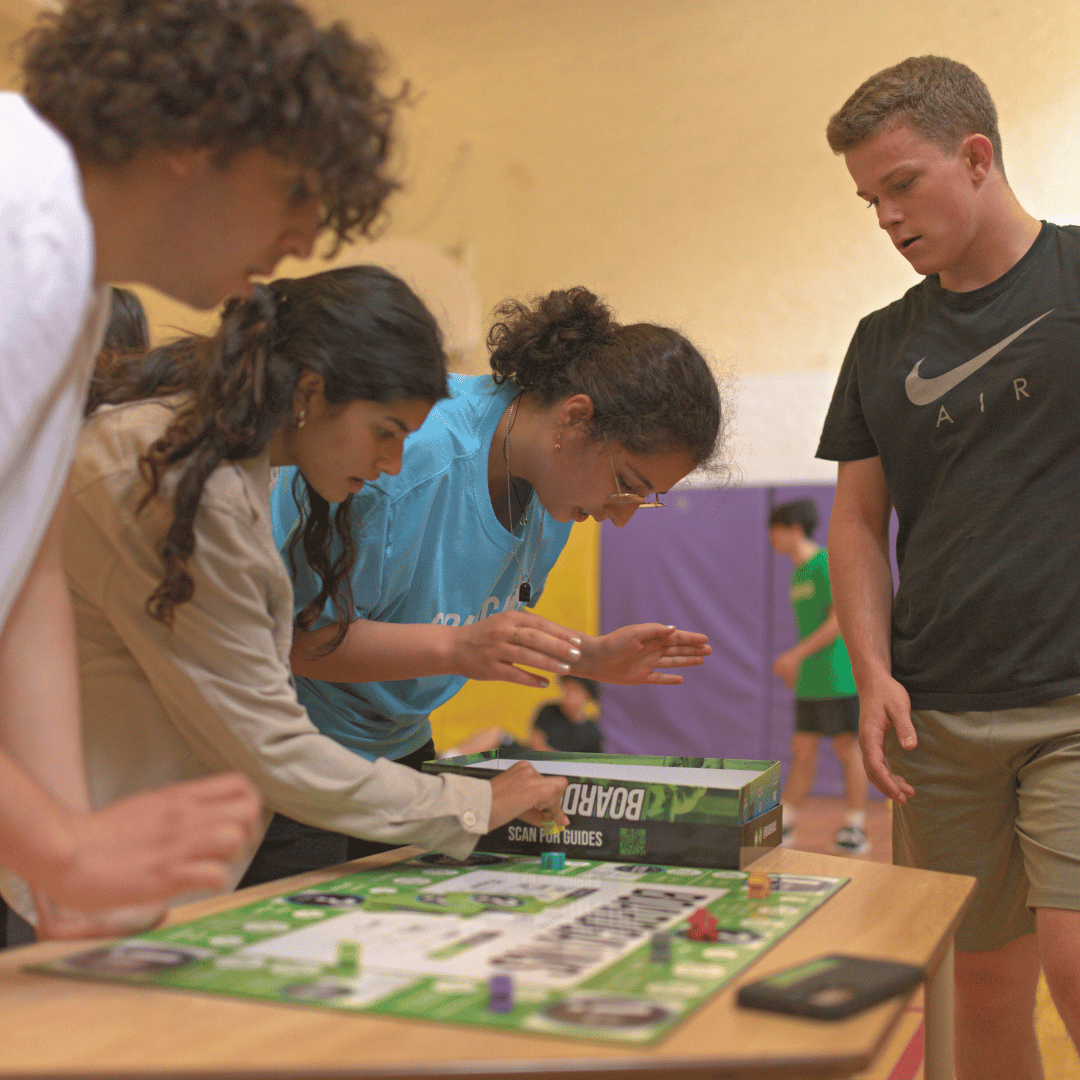 Score Big in School with BoardGains!
Turn PE and Team Training into a Bootcamp Party! Students Will Have A Blast Getting Active While Playing Our Game. With Just Bodyweight Moves, It's Easy and Fun for Everyone! A Fun Approach To Instill Lifelong Healthy Habits!
Learn More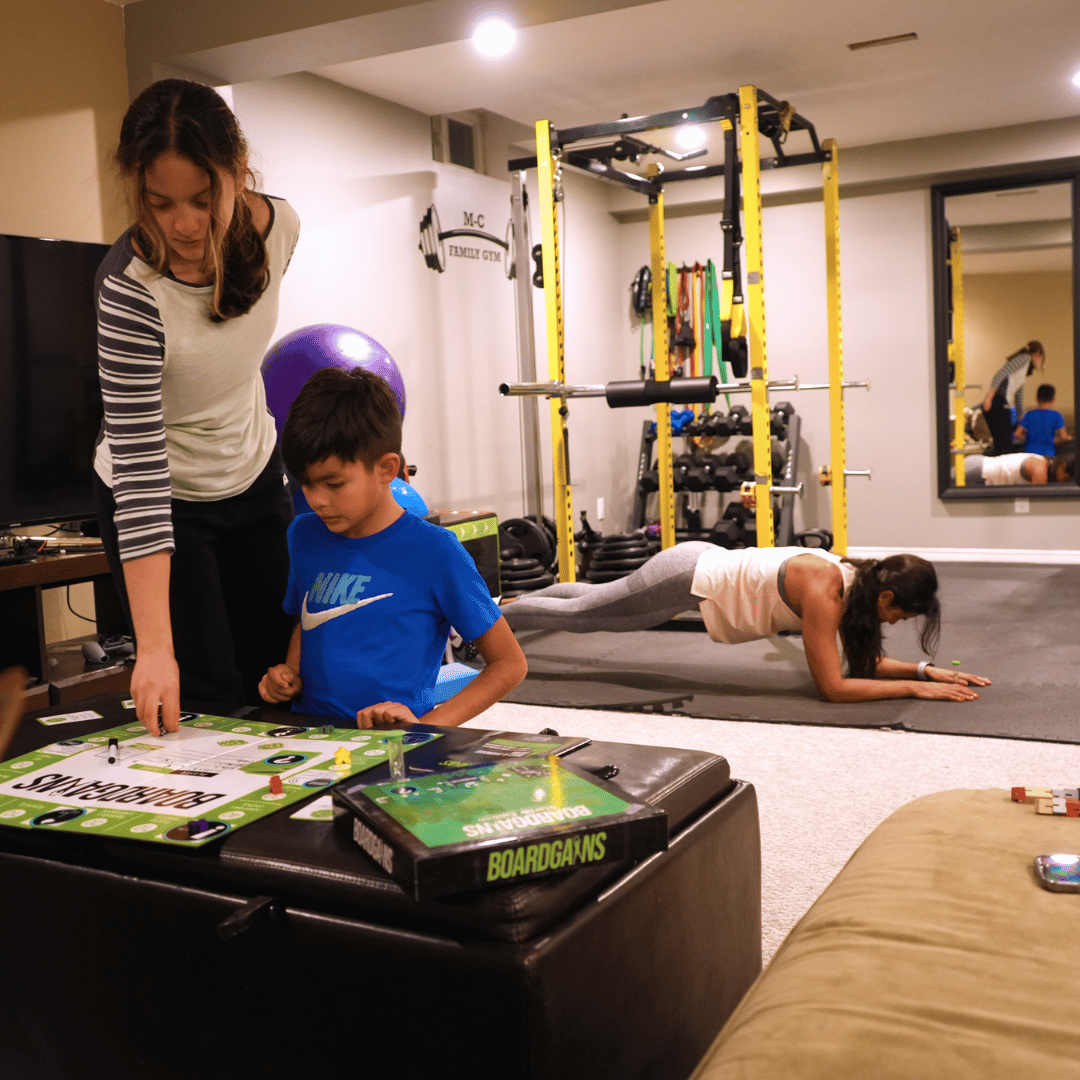 Family Time Just Got a Fitness Upgrade!
With BoardGains, Parents and Families Can Turn Any Space into a Fitness Playground! Play Inside or Take the Fun Outdoors—Endless Ways to Bond and Boost Those Gains!
Shop Now
Get on board with a fun new way to get those gains!
Hi there! I'm Eric. My love for watching the TV show Survivor, especially the captivating team & solo challenges, sparked an idea. Drawing inspiration from those challenges, I began to gamify my bootcamps. I started with designing fitness cards and later developed the first iteration of BoardGains on a whiteboard. As a fitness instructor, my mission was to infuse excitement and entertainment into workouts for my bootcampers. The outcome was the creation of the BoardGains Fitness Board Game! Whether you're at the gym, school, home, or the great outdoors, BoardGains offers a unique blend of fun and fitness. Let's Get On Board & Crush Our Gains Goal!