UNLOCK BOARDGAINS AWESOMENESS IN JUST 3 EASY STEPS! 🚀 FUN GUARANTEED FOR ALL AGES! 🎲💪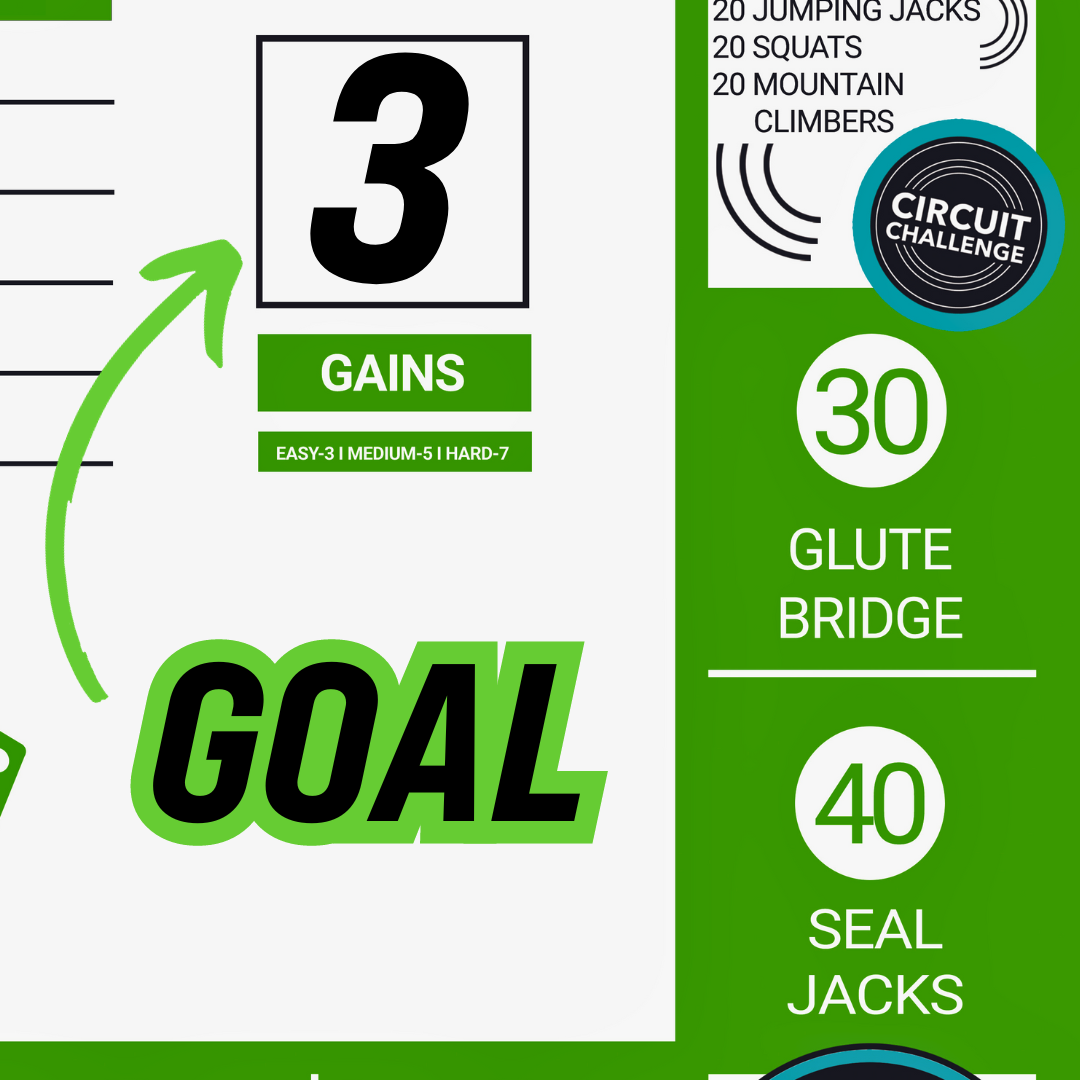 1) Set the Gains Goals: 1 lap = 1 gains 🎯
Decide how many laps around the board you need to complete to win. More laps equals more gains, baby!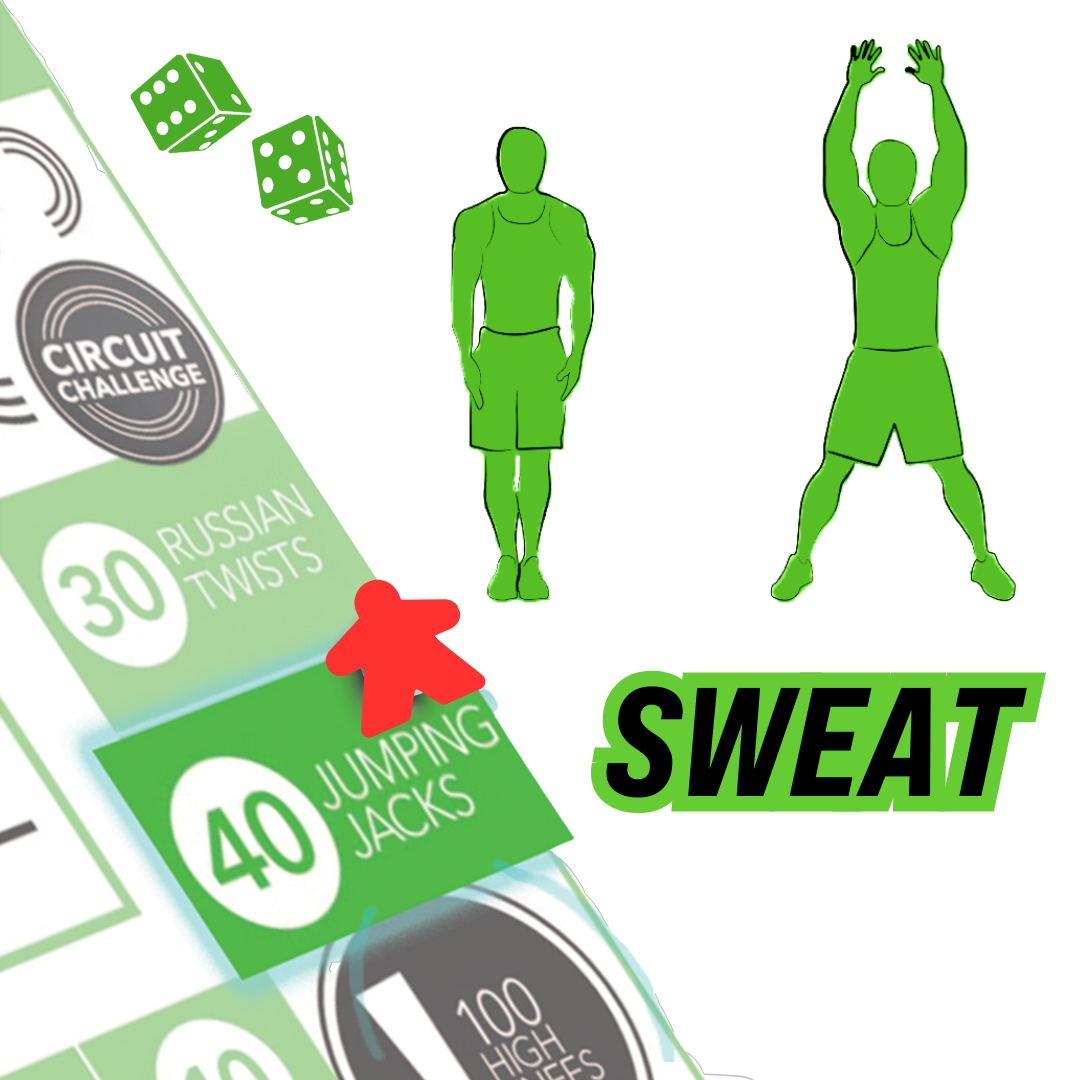 2) Roll, Move, Sweat, Repeat🎲💪
Roll dice, move game piece, complete exercise you land on & repeat to keep the fitness party going.
Land on 'Lucky? SPOT'? Grab a Play Card. It could boost you up or set you back!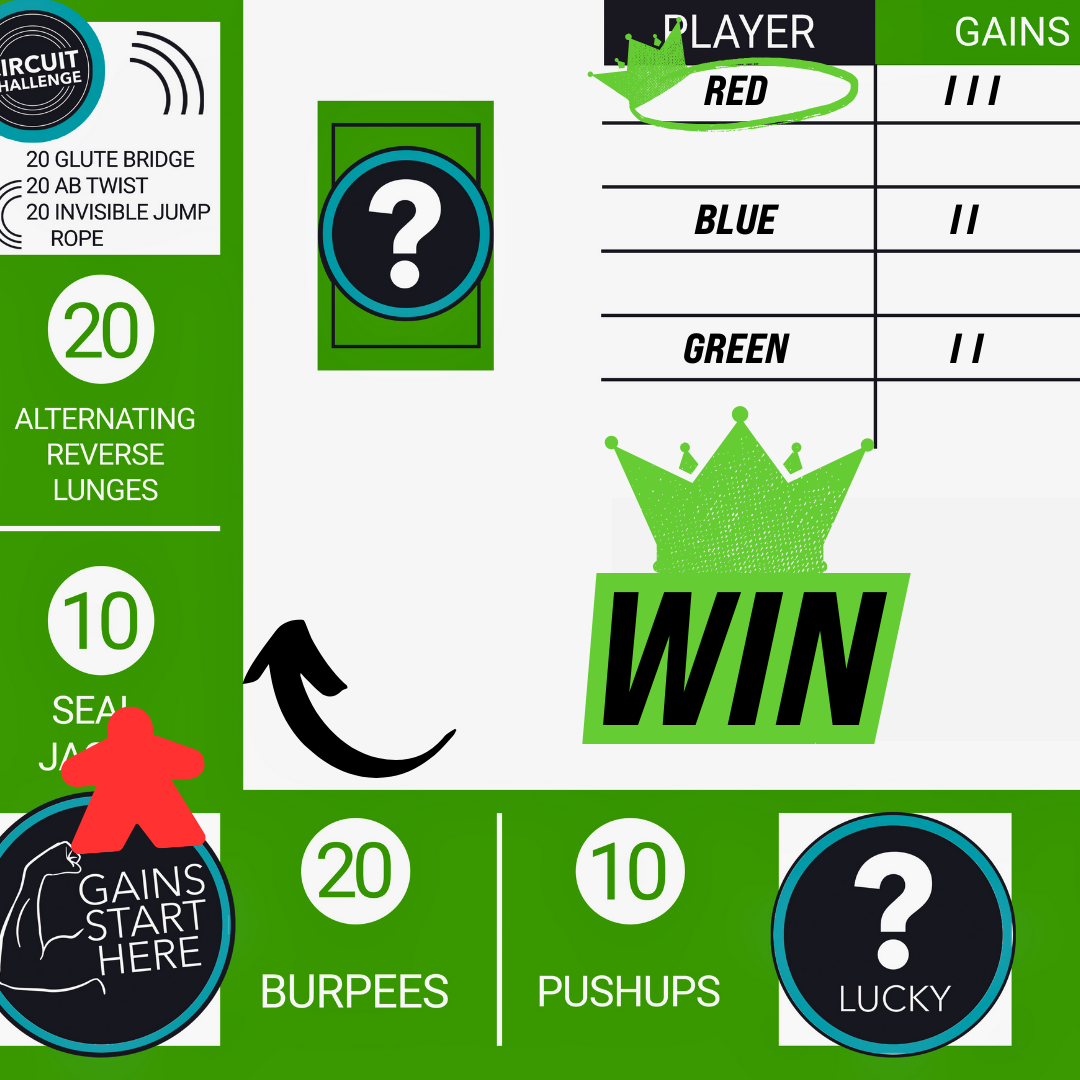 3) Hit the Gains Goal & Win 🏆
Pass 'Gains Start Here' in a clockwise lap, earn a gain. First to hit the gains goal wins!
Video Tutorial: How To Play Boardgains Fitness Game
Detailed How To Play Boardgains Workout Game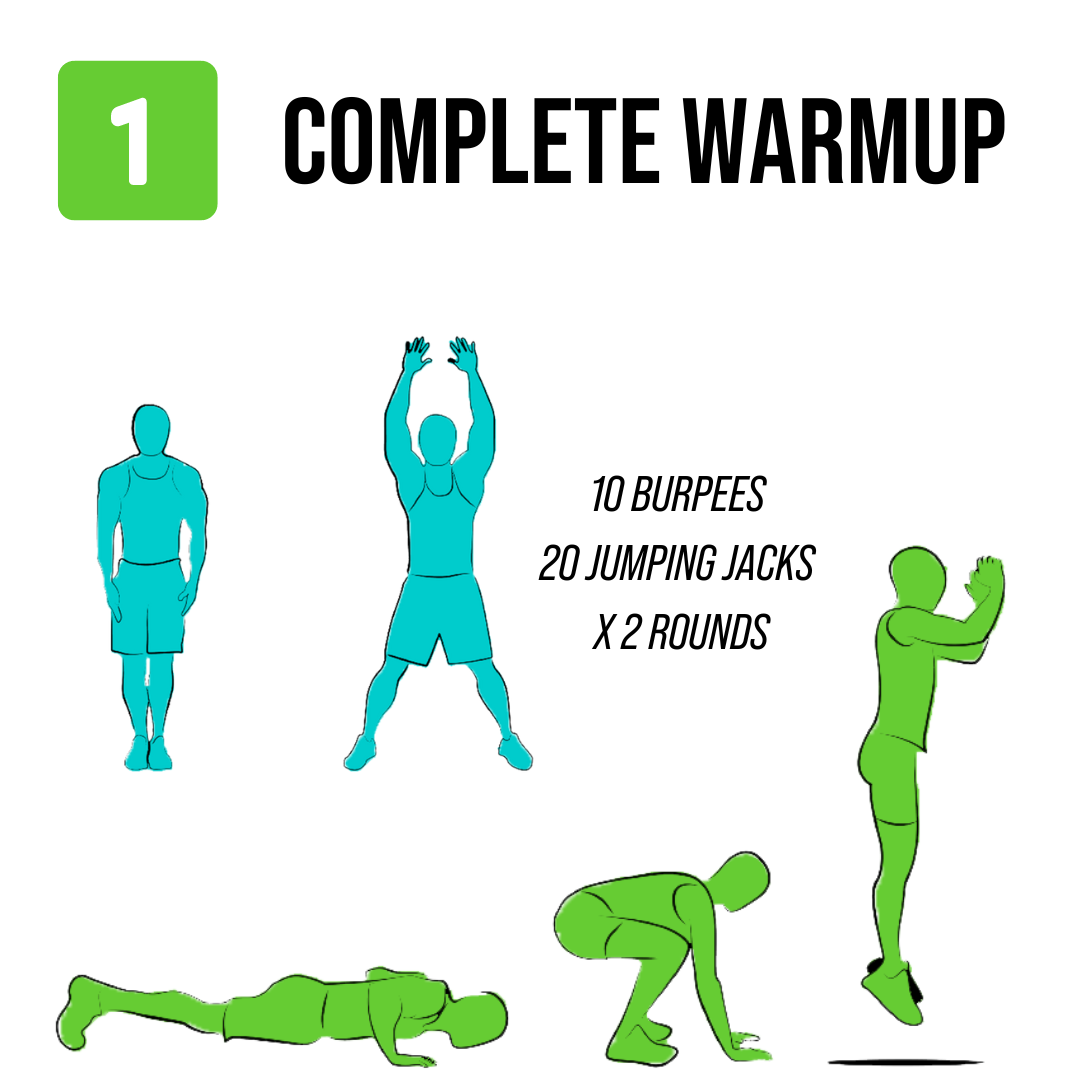 WARM-UP
Before starting the game, it's important to complete a warmup. You can either complete your own warmup routine or use the one provided in the exercise guide.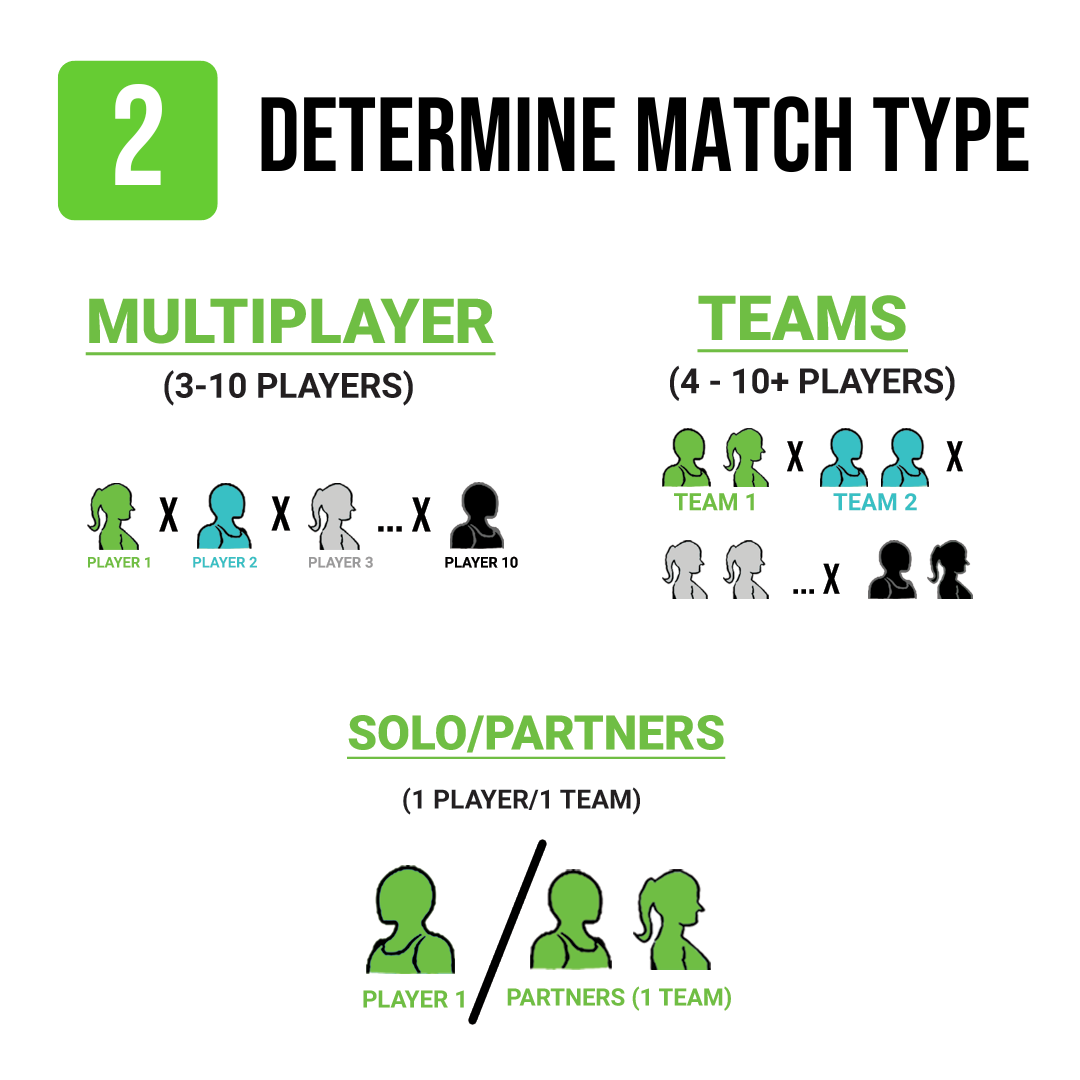 Determine the Match Type
Solo / Multiplayer / Teams
When playing as a team, each player must do the corresponding exercise and reps. Reps can be transferred within the team. Wait until everyone on your team completes their reps before rolling again.
Example: A team of two lands on 10 pushups. Each player must do 10 pushups, and as a team, they must complete 20 pushups between the two players. Player A can transfer 5 pushups to player B so that player A does 5 pushups and player B does 15.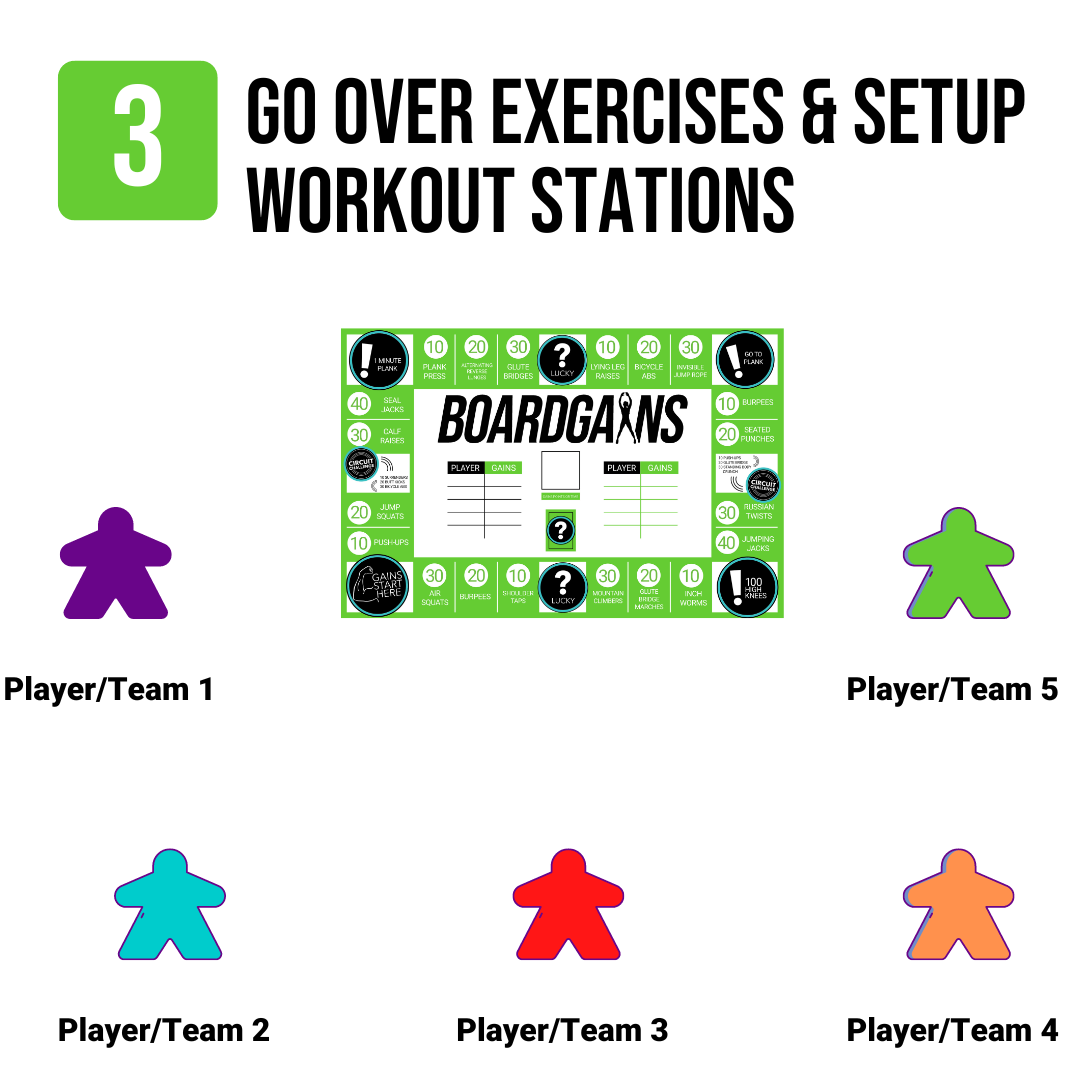 Go Over Exercises & Setup Workout Stations
Before starting the game, make sure you know all the exercises on the board. If you don't know one, look it up in the exercise guide. Then set up stations for each player or team, about 7 to 10 feet away from the board.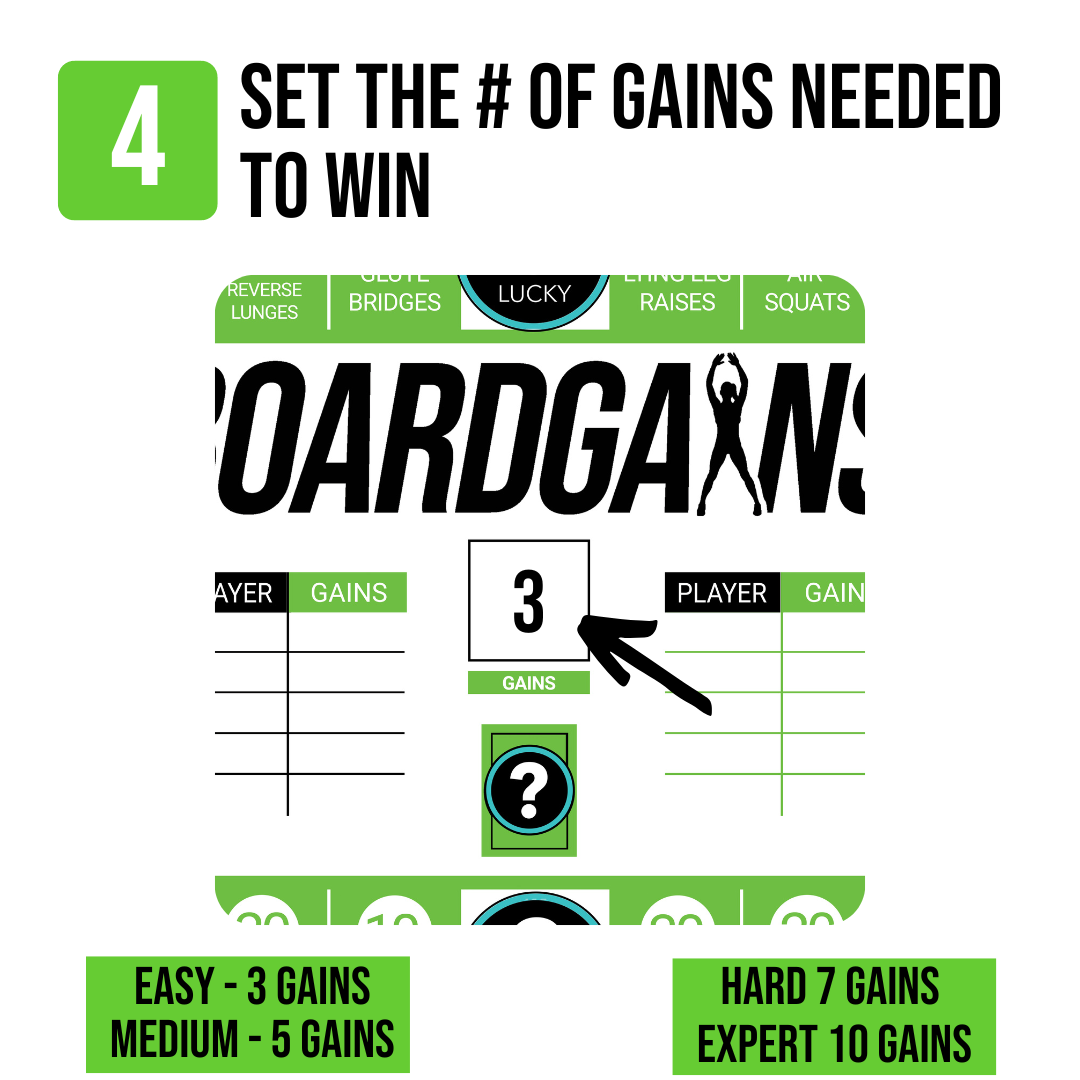 Set the number of GAINS (Laps Around The Board) needed to win.
Write that number in the Gains Square on the board. After your initial roll, play the game by going around the board clockwise collecting 1 GAIN every time you pass GAINS START HERE. The first person/team to collect the designated number of GAINS wins the game.
SUGGESTED GAINS
Easy - 3 Gains / Medium - 5 Gains  / Hard - 7 Gains  / Expert - 10 Gains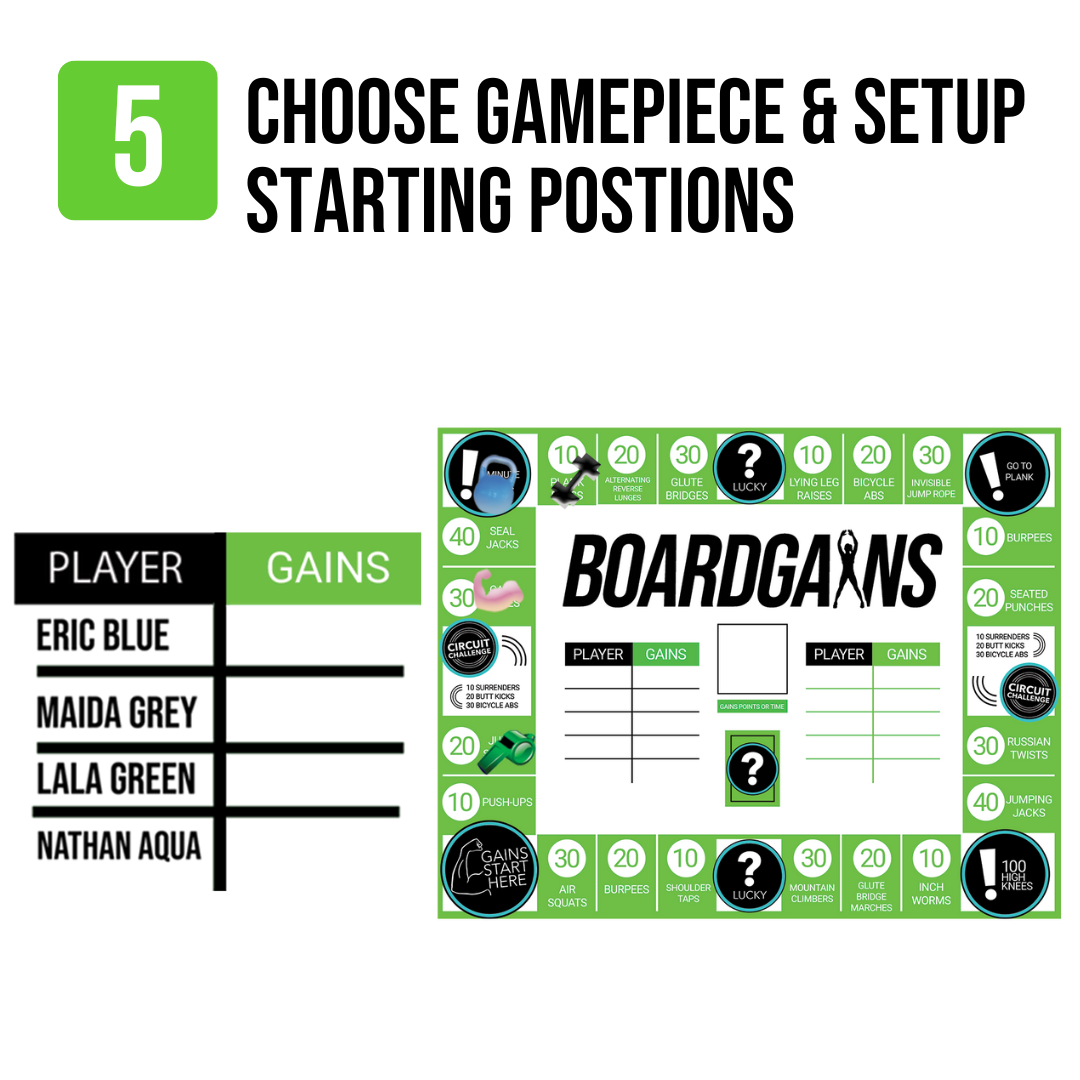 Choose Gamepiece & Setup Starting Postions
Choose your game piece and write your name on the board. Roll the dice to move your piece. When everyone is ready, count down to start the game. Move clockwise around the board and collect one gain each time you pass the starting point. The first person or team to collect the set number of gains wins!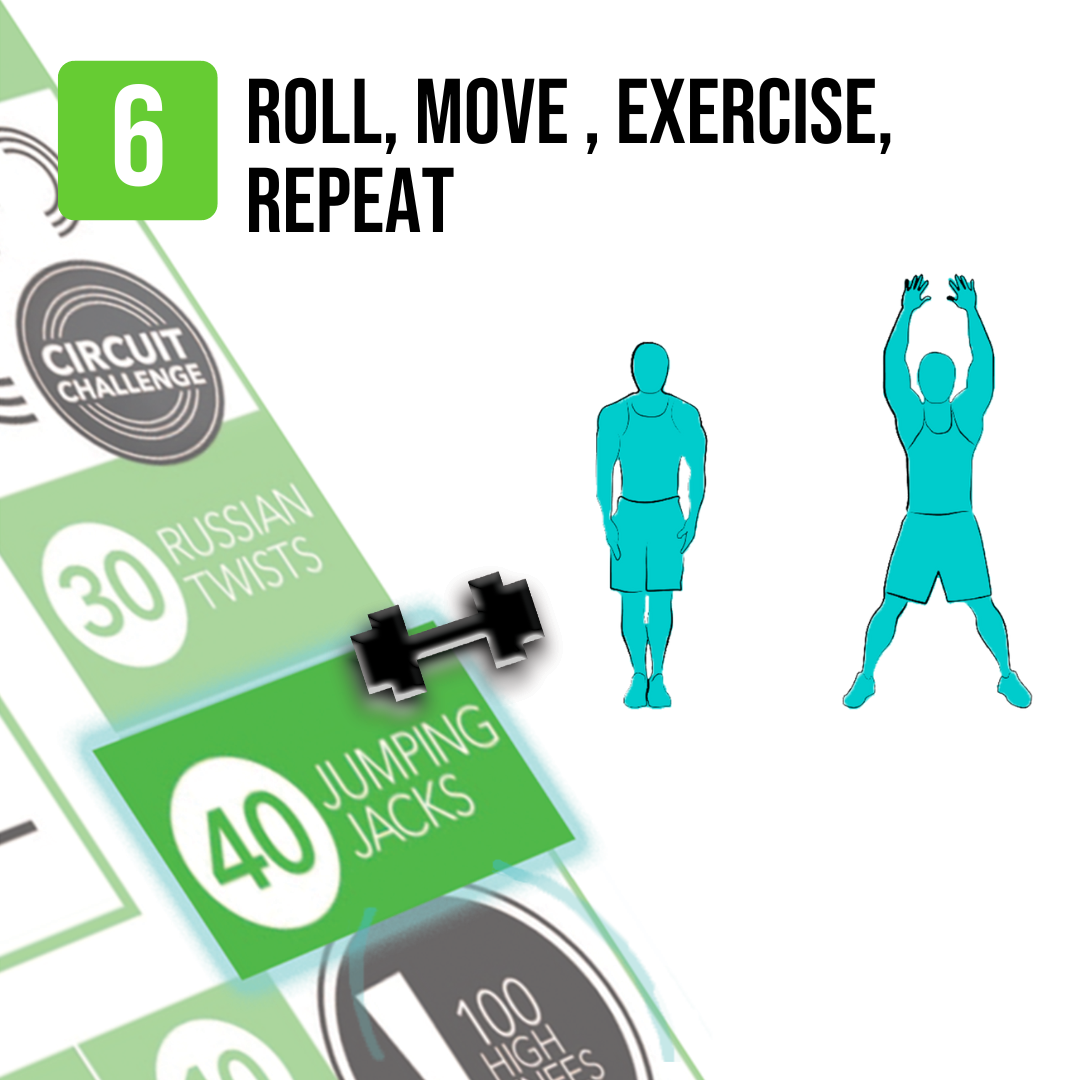 Roll, Move , Exercise, Repeat
When you play the game, you have to do the exercise that matches the square you landed on and complete the number of reps shown. Then, you can go back to the board and roll the dice again. You don't have to wait for the other players to finish their turn.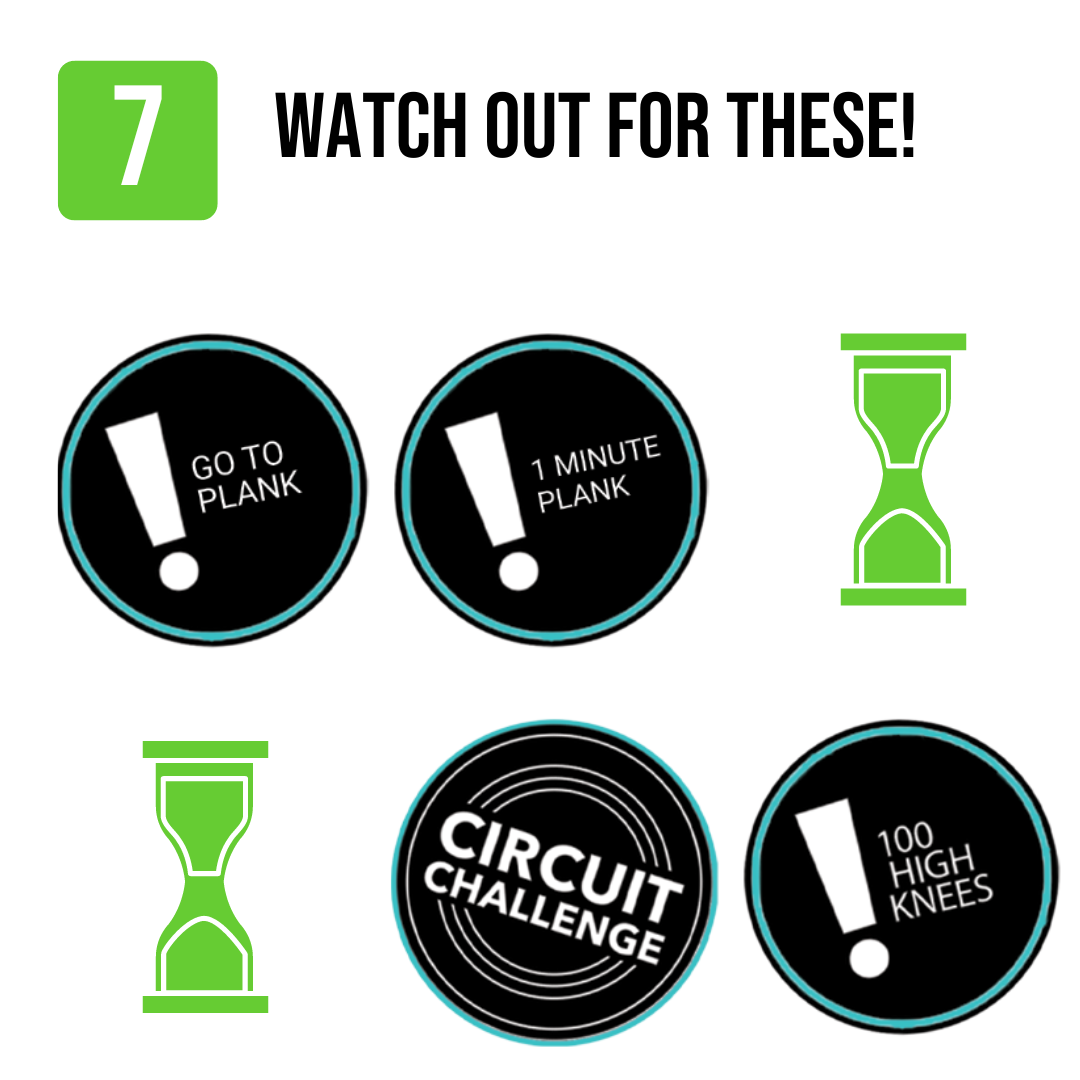 Watch Out For These!
Be careful of these spaces! If you land on CIRCUIT CHALLENGE or 100 HIGH KNEES, you have to finish that before rolling again. If you land on 1 MINUTE PLANK, hold a plank for a minute before rolling again. If you land on GO TO PLANK, move back to 1 MINUTE PLANK and hold it for a minute.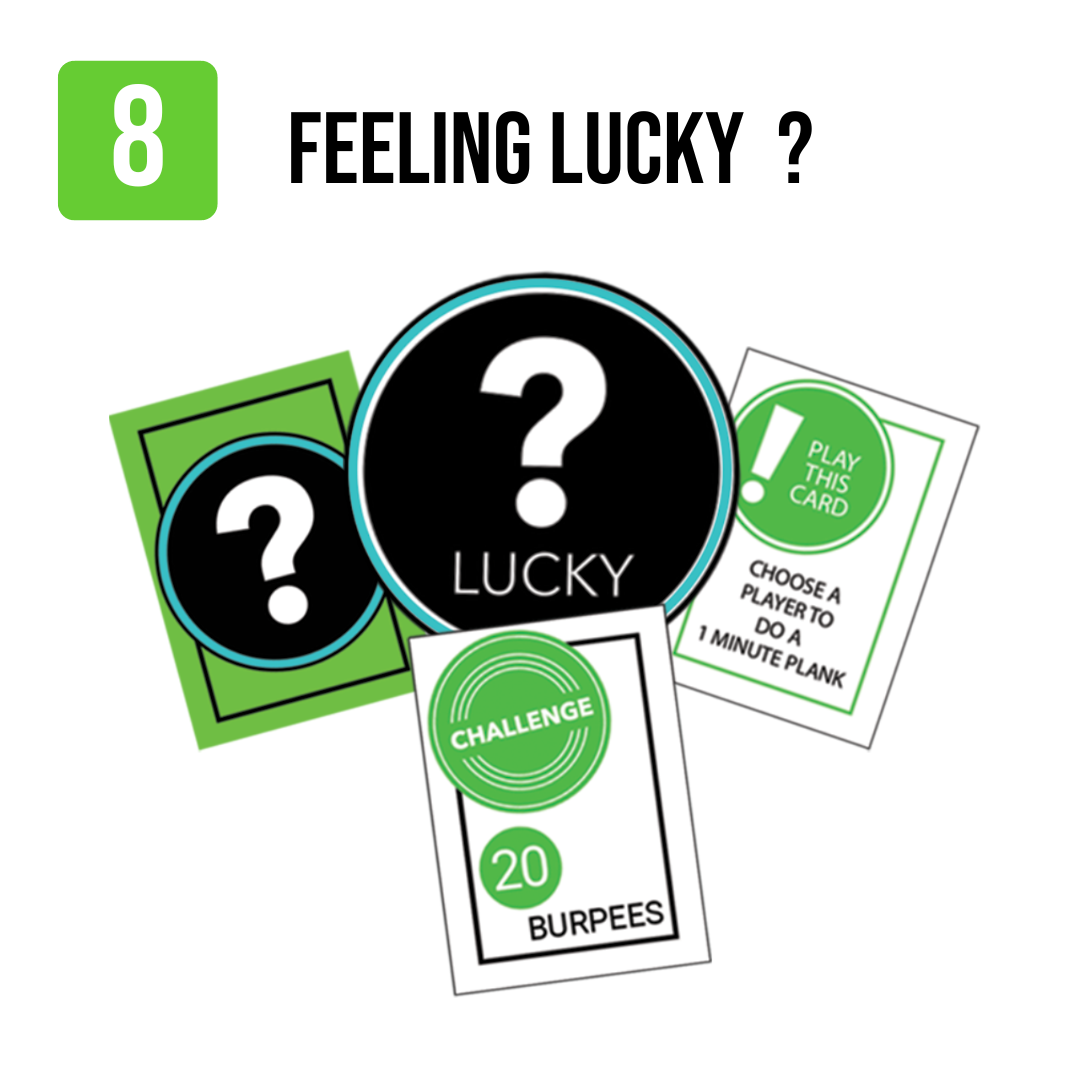 Feeling Lucky ?
If you land on a LUCKY SPACE, pick up a game card. It can be good or bad. Do what the card says right away, except for PLAY THIS CARD cards, which can be used later.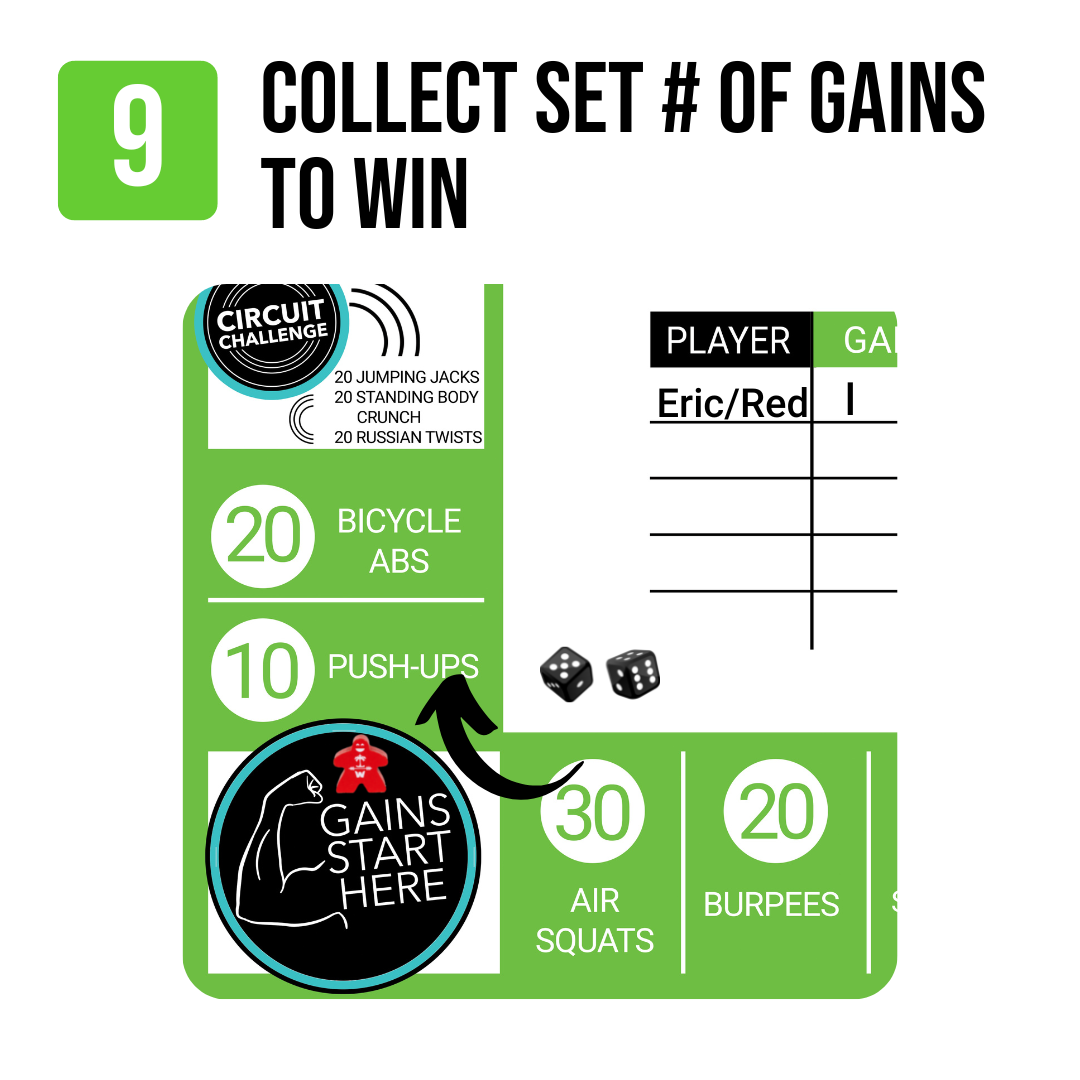 Collect Set # Of Gains To Win
Every time you go around the board and pass  GAINS START HERE you get 1 GAIN. Record your GAINS on the gains column. The first player/team to collect the set number of gains wins the game.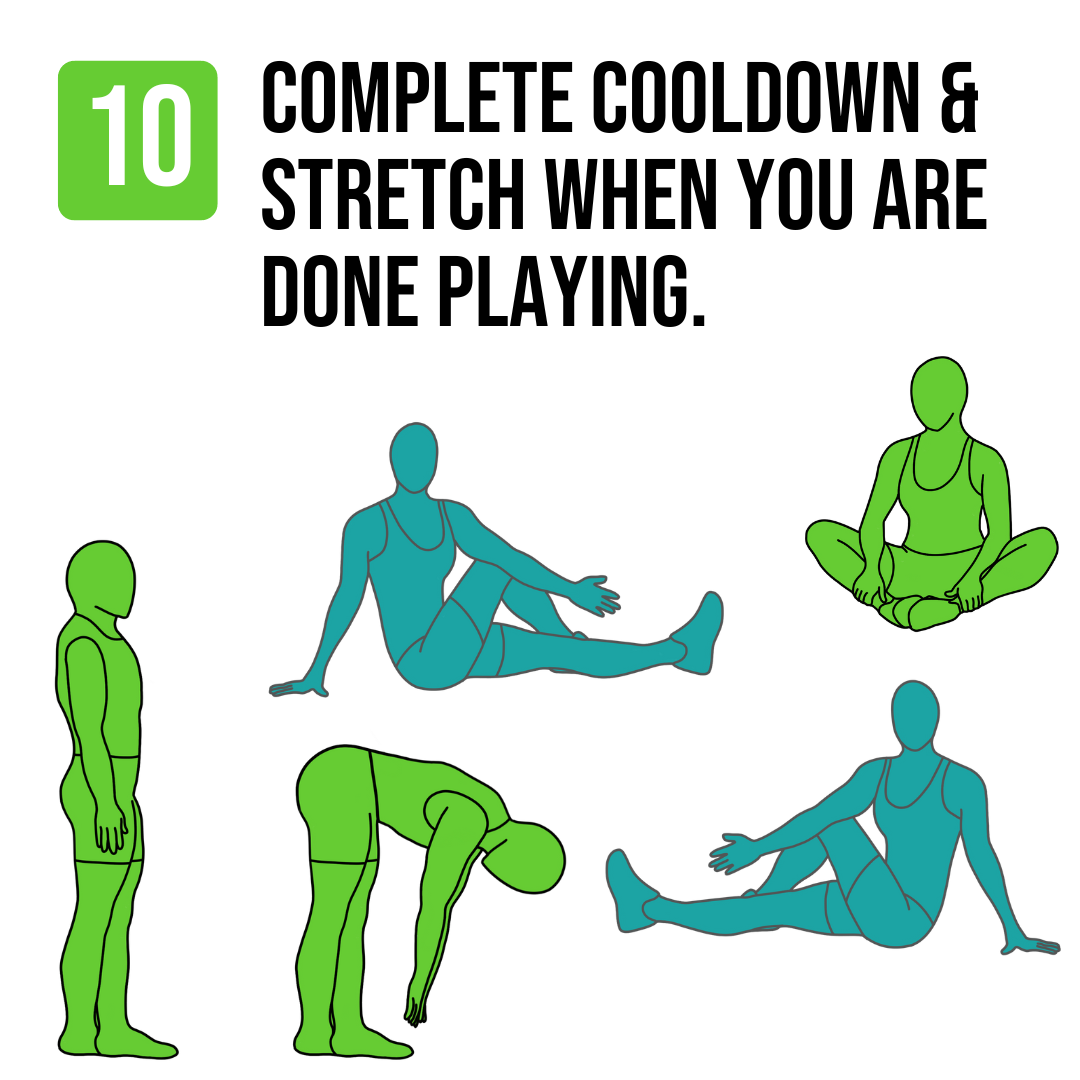 Complete Cooldown & Stretch When You Are Done Playing.
At the end of the session, complete a cooldown / stretch routine.  You can do your own or use the one provided. 
EXERCISE GUIDE - how to perform each bodyweight exercise properly with correct form & modifications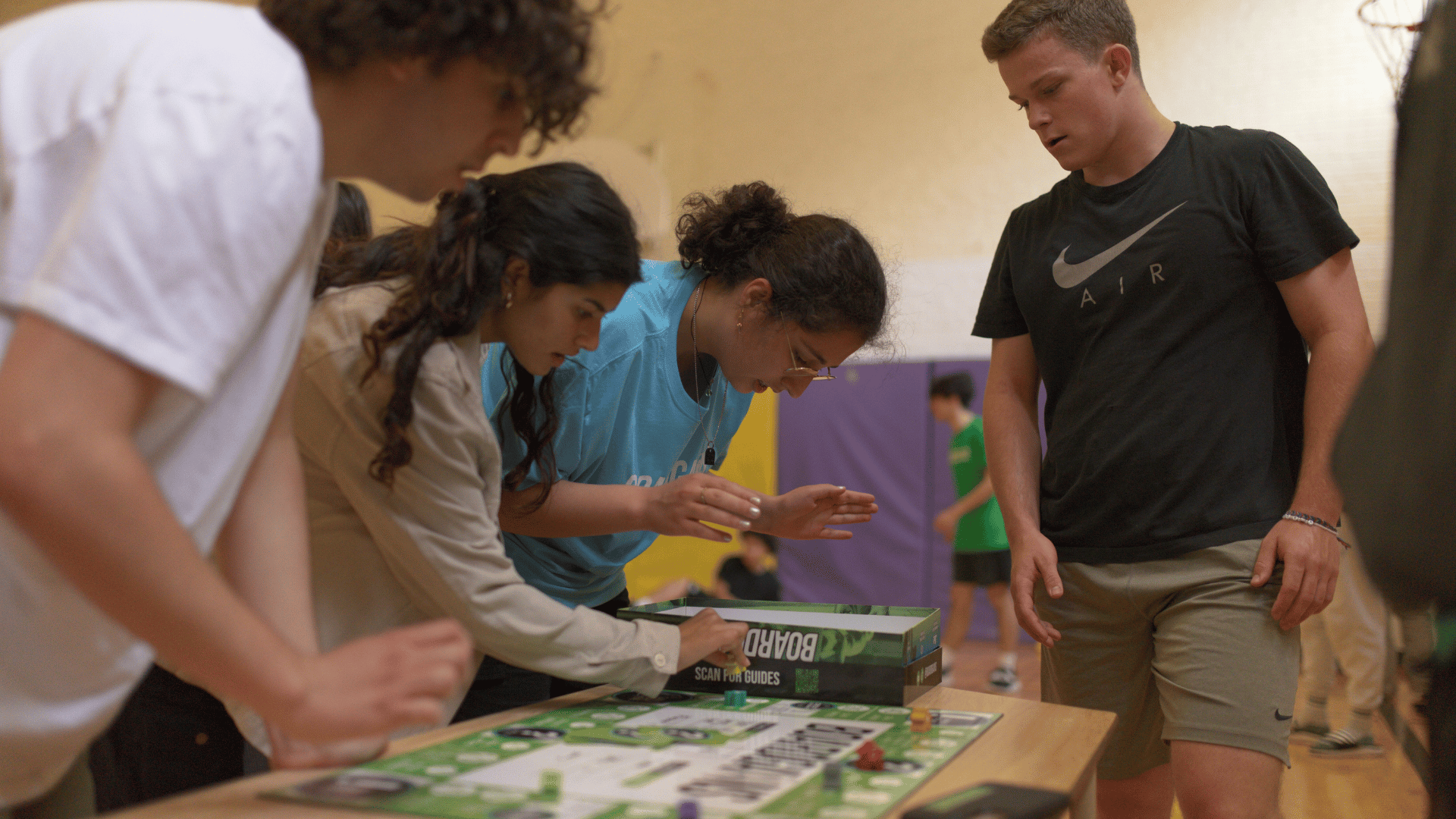 Get ready to level up your Boardgains game!
RESOURCE CENTER FOR PHYSICAL EDUCATION, GROUP FITNESS & HOME WORKOUTS!
We've got some amazing resources in store for you that will take your sessions to the next level. Whether you're a Group Fitness Instructor, a Phys Ed Teacher, or just someone looking to expand their Boardgains skills, we've got you covered. So, let's get pumped up and bring the fun and excitement to your workouts!
Enter Here