Eric's Guilt-Free Chicken Parmesan Recipe (How To Recipes by Boardgains)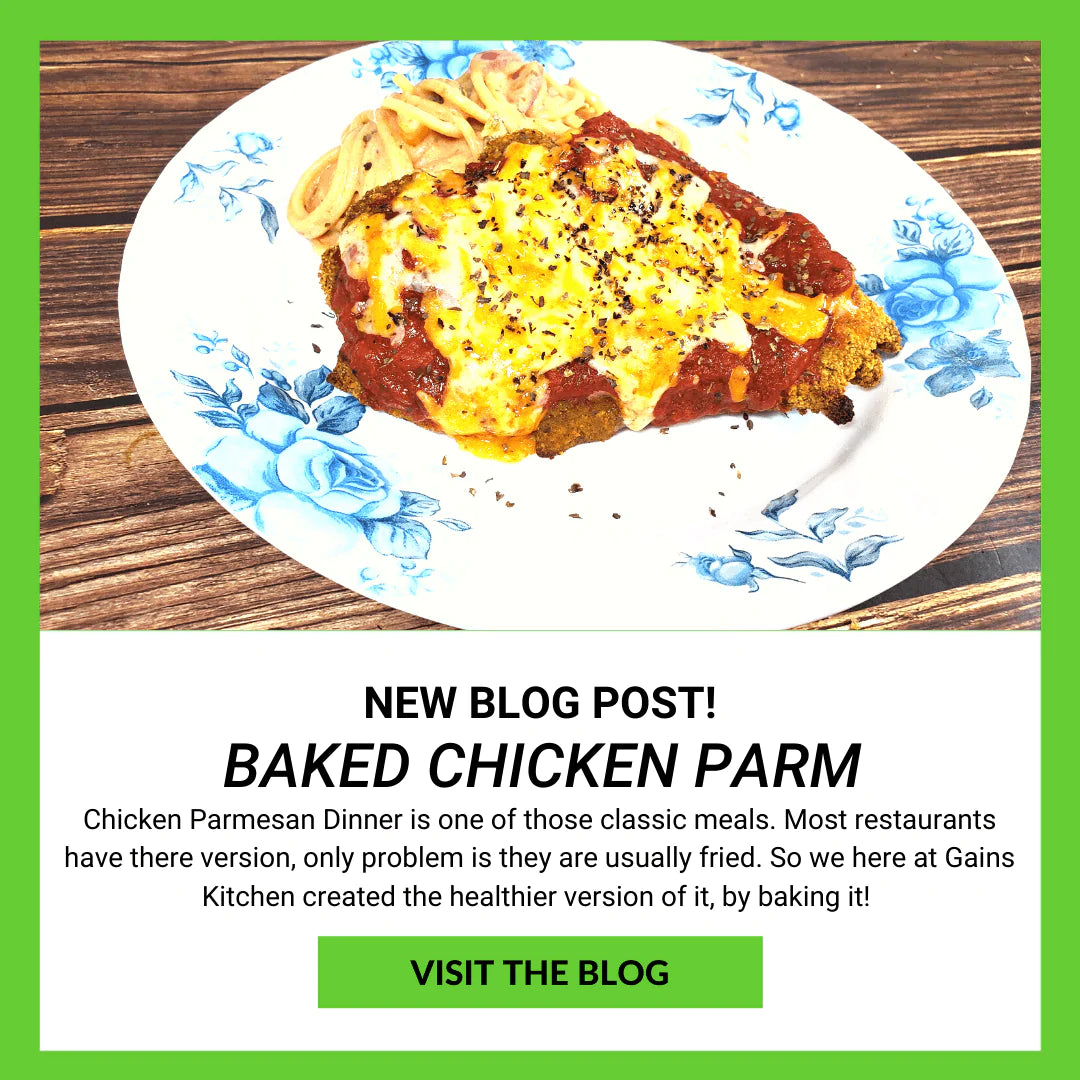 Hey Fitizens, 
Chicken Parmesan Dinner is one of those classic meals. Most restaurants have there version, only problem is they are usually fried. So we here at Gains Kitchen created the healthier version of it, by baking it! Try it for Gainsmas this year! Guaranteed to be a hit! 
Love & Gains, 
Founder Eric 
BAKED CHICKEN PARM 
Ingredients: 
 2 boneless skinless chicken breasts, — about 12 ounces each

 1/2 cup breadcrumbs (Italian seasoned preferably) 

 1/2 cup whole wheat Panko breadcrumbs

 1/4 cup freshly grated Parmesan cheese

 ½ teaspoon garlic powder

 ½ teaspoon black pepper

 ½  teaspoon salt

½  teaspoon oregano 

 2 large egg 

 4 ounces mozzarella or marble cheese

 1 cup tomato sauce — plus extra for serving as desired

 Fresh basil, — thinly sliced or chopped

 Optional — for serving: prepared  pasta or zucchini noodles, or just enjoy on its own!
Yield: 4 servings 
Directions:
Preheat your oven to 375 degrees F. Lightly coat a baking sheet with cooking spray. Cut each chicken breast in half lengthwise so that you have 4 pieces total. After cutting the chicken breasts in half, place them in a gallon sized zip top bag in an even layer, seal it, then pound them to an even thickness ( or 1/2-inch thickness) using a  meat pounder or a rolling pin. You can also place the chicken breasts between two layers of cling wrap instead of a zip top bag if you prefer. 

In a wide, shallow bow, combine the breadcrumbs, Panko, Parmesan, garlic powder,salt and pepper. In a separate bowl, whisk together the egg until lightly foamy. Dip one chicken breast into the egg, then into the bread crumb mixture.  Ensure chicken breast is fully coated in the crumb mixture, and gently press with your hand to help the crumbs stick to the chicken.  Place chicken breast on the prepared baking sheet, repeat with remaining pieces of chicken.

Place the baking sheet in the oven on the second from the top rack.  Bake for 15 minutes, or until cooked through. Flip chicken, pour 1/4 cup of marinara sauce over each piece of chicken, then top with cheese. Place back in the oven. Turn on the broiler. Broil for 2-4 minutes, until the cheese is melted and bubbly and edges of chicken are browning.

Sprinkle with basil and enjoy immediately, topped with extra sauce as desired.

Serve with pasta or eat by itself
---