Boardgains Fitness Board Game Now Available at Dick's Sporting Goods Nationwide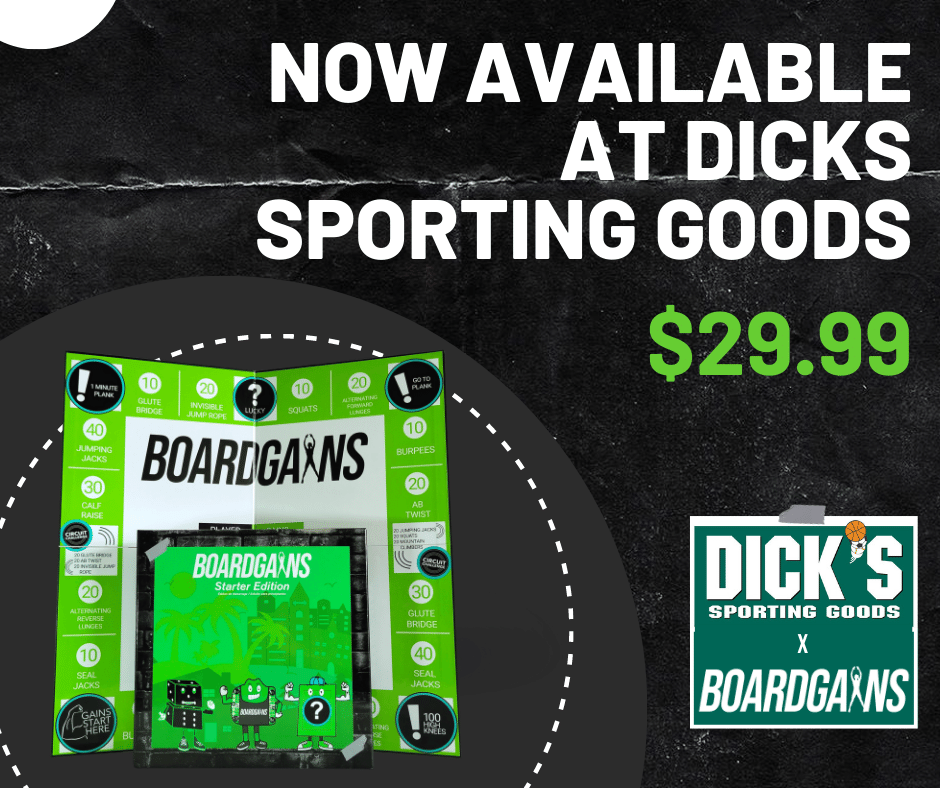 FOR IMMEDIATE RELEASE
Boardgains Fitness Board Game Now Available at Dick's Sporting Goods Nationwide
[Boardgains, the innovative fitness board game that combines the excitement of traditional board games with engaging physical challenges, is proud to announce its partnership with Dick's Sporting Goods, one of the largest sporting goods retailers in the United States. Starting today, the Boardgains Starter Edition will be available for purchase at Dick's Sporting Goods stores across the country, as well as online at dickssportinggoods.com.
This milestone partnership marks a significant step for Boardgains as it continues to expand its presence in the fitness and gaming industries. The company's unique approach to promoting physical activity and a healthy lifestyle through the fun and interactive format of a board game has garnered widespread acclaim from customers and industry experts alike.
"We are thrilled to partner with Dick's Sporting Goods to bring Boardgains to a wider audience," said Eric Mathura, CEO of Boardgains. "Our mission has always been to make fitness more enjoyable and accessible for people of all ages and skill levels. By combining the social, interactive elements of board games with a variety of bodyweight exercises, we believe we have created a truly unique product that can help individuals and families achieve their wellness goals while having a blast."
The Boardgains Starter Edition features all bodyweight exercises, making it ideal to play anywhere from homes to the backyards and for beginners to fitness enthusiasts. The game encourages social interaction and friendly competition, making it perfect for family gatherings, parties, or fitness groups.
For more information about Boardgains, visit www.boardgains.com or follow the company on Facebook, Instagram, and Twitter.
About Boardgains
Boardgains is a forward-thinking fitness and gaming company dedicated to promoting health and wellness through the power of play. Their flagship product, the Boardgains Starter Edition, combines strategy, chance, and physical activity to create a fun and engaging workout experience for individuals, families, and groups. With customizable gameplay and a focus on social interaction, Boardgains is revolutionizing the way people think about fitness and exercise.
---